I could be a Debbie Downer and complain to you all about what's going wrong in my life. But I won't. I'm going to focus on the good. The positive. The good people in my life. The good things in my life. And all that is right.
I will give to those in far more need than me. And I will send good thoughts to those who need it – that I can't help in other ways.
Happy Thanksgiving to you all! (Forget the original Thanksgiving message – as it has it's flaws – eloquently told by comedian Eddie Izard on the pilgrims first landing in Plymouth).
Just focus on the good in your life and how you can bring good to others.
I will be spending Thanksgiving with friends – as I have no family in Los Angeles. May you find the same equivalent of people to spend time with for your weekend of gratitude too.
xo
Here's my last pumpkin picture of the year.  (I put this one on my fireplace mantle – I loved it's curvy stem). I just can't post a pumpkin pic after Thanksgiving!  I mean, Christmas decor and Santa made their way to you in stores BEFORE Halloween even hit!  I'm like way old new here.  :-)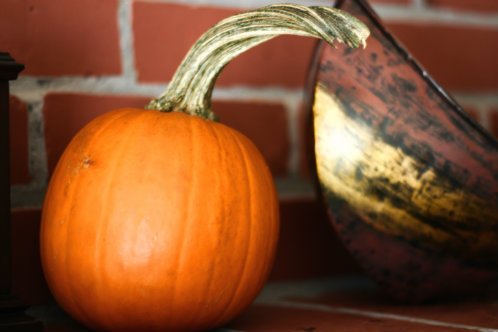 ---
Leave a Reply