I wouldn't say I'm particularly fond of birds.  They aren't cuddly or all that cute.  Nor would I say I dislike them.  It's cool they can fly, there's so many different kinds of them and they are rumored to be from the good ol' dinosoar days.
So I'd say I'm sort of neutral on my feelings of birds.  Which doesn't at all explain: WHY IN THE WORLD? do I have bird fingurines all over my house?  Wait, don't get scared by that!  I'm not like a nick nack freak with shelves and shelves of birds.  And none of them are taxidermy specials of the once-living-among-us kind of birds.  But over the years I've been drawn to little bird figurines and have collected a few that are now scattered around the house.
Most recently, the birds have been drawn to me.  They built a home right on our front door!  I took the wreath that hangs on it down for a little cleaning and there on top was a cute little nest and eggs.  Really strange that they would build there since the front door is in constant motion.  It's the door we use the most for coming and going.
I hadn't seen a bird fly to the wreath in awhile.  So maybe after they built it, THEN they realized just how much the door moved, and they abandoned it.  Poor little eggs.  Never to be.  Never to fly away.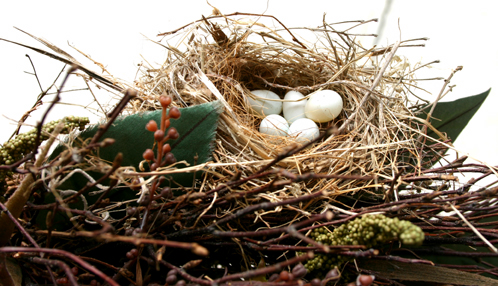 ---
1 Comment
---
Leave a Reply