I've been working 14 hour days on a film so I haven't had much time to post here.  Soon we'll be done and I'll resume typing away here.
The Santa Ana Winds wreaked havoc through Los Angeles earlier this month.  I'm sure you caught something about it on the news.  We lost our power for the night which somehow caused our furnace to blow out!  We didn't know it until the next night when it wouldn't come on.  The furnace is only a few years old and thankfully the part was covered under warranty!
But our tree in the front yard does not come with any sort of warranty and that was taken down by the wind.  I'm not talking about a small tree.  Or a branch on a large tree.  I'm talking about a HUGE tree that was completely taken down.  It scraped the neighbors car on the way down, but otherwise landed in the perfect spot, missing electrical wires by inches.  Whew!
Goodbye sweet tree.  I'll miss the shade you provided for our entire front yard and your good smelling flowers in the spring.  Your replacement has a lot to live up to.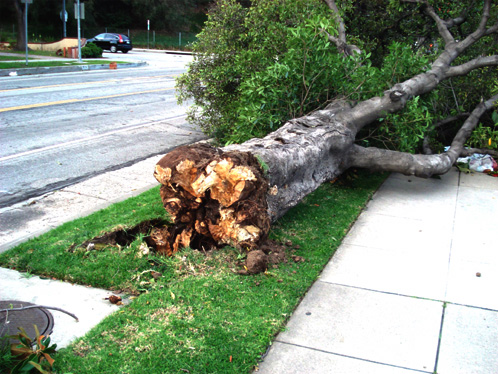 ---
Leave a Reply