I found the solution!  The solution to getting more sleep with a newborn in the house.
I hear people all the time say their newborn (or sometimes older) keeps them up all night.  There are several solutions for that (more on this later), but one of them is keeping your little one swaddled.  But not just swaddled, swaddled well.  How do you do that?
With Max we just used a regular blanket.  We were lucky that a pediatrician, who is known for his swaddling skills, showed us how while we were still in the hospital with Max.  However, it's very difficult to get it tight enough or stay in place.
With Sarah, I started out using the same blanket, but when she woke up at 2:00am to eat, she would always need to be RE-swaddled.  And the problem with having to re-swaddle?  Once you open up the blanket, she's wide awake.  Not good.  Did I mention it's 2:00am?
I wanted to find something that would swaddle her up nice and snug and STAY swaddled even after she wriggled around, I picked her up, fed her and put her back down to sleep.
And I found it.  It's called a Woombie and it's genius!  It zips up nice and snug and doesn't come undone.
Now if Sarah wakes up to eat at 2:00am, there's no re-swaddling to do and we can both just go right back to sleep.  Genius.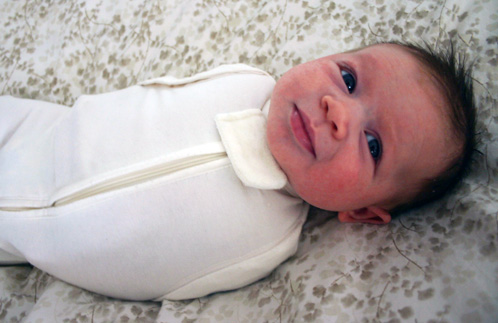 ---
3 Comments
---
Trackbacks
Leave a Reply