Since Max does such a good Frog impersonation, I was inspired to do a Frog themed birthday party! It was a combo deal. Meaning we celebrated Max turning 2 and Sarah turning 1. I was not having two birthday parties 3 weeks apart! Are you nuts? It will be a combo deal for as long as I can get away with it. So basically until one of them complains.
I rented the wading pool and tables at the park down the street which also has two jungle gyms, swings and a basketball hoop. We also brought a frisbee, bubbles, beach ball frogs, and some yummy food. Thankfully the weather was perfect. But, you know, your chances of that are pretty high living in Los Angeles.
Making it even more fun, was their Grandma and Grandpa (Joe's side) there to celebrate! We knew they were coming to visit that week, so we decided to party it up while they were here.
Funny thing, I think Max was the only kid who wouldn't get in the pool! Ha! Oh well, he had fun playing with the beach ball frogs at least. And Sarah is game for anything. So far anyway. We'll see what she's like when she turns 2!
We had a great time and I hope everyone who came out to celebrate with us did too.  Here's a couple of my two favorite pics of the birthday kids – on the day.  Sarah posing in her pretty dress among the trees and Max on frog duty.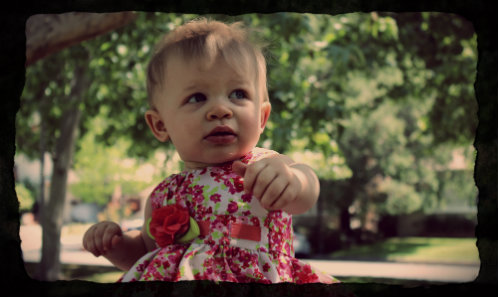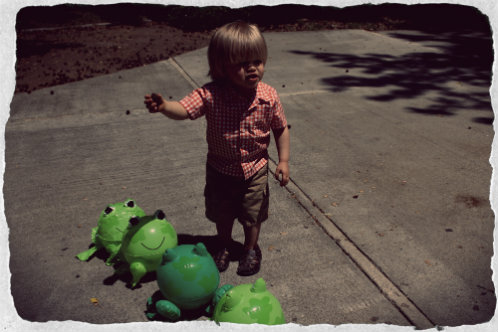 ---
Leave a Reply