There are a LOT of things you NEED when having a baby.  I don't like shopping and dreaded all the money and time that had to be spent getting baby necessities.  Not to mention finding space in my home, car and diaper bag for all these things.
And what about the time between baby #1 and baby #2 (or #3, and #4)?  Now you also need storage space!
My goal was to only get the essentials and not waste time and money on things I didn't really need.
There are so many baby items on the market, it's hard to know (especially when it's your FIRST baby) what you'll really need…  and what can you do without.
There are a few things you HAVE to have.  One example: Blankets.
I'll be out running errands on a hot day and realize it's too chilly for little Sarah in the store and need a blanket to wrap around her.  Or, I'll be out at the park and need ground cover for diaper changes.  There's always a need for a blanket.
Now, what if your blanket could also be used as a shopping cart cover?  A nursing cover?  A high chair cover?  What if your blanket could function as several things because it's specially designed to do so?
That would be awesome, right?  Well, there is such a blanket!  It's called a Babee Covee.
I always keep my Baby Covee with me and now I don't have to buy or lug around all of those things separately: blanket, nursing cover, high chair cover, shopping cart cover… I have ONE blanket that does ALL of these things!  It takes up so much less space (and less money too).  It's ONE blanket that functions as SIX baby necessities.
I got the color green so I could use it for both Max and Sarah, but it also comes in pink or blue.  It's so soft and luxurious!  The first thing I did when I got it was wrap Sarah up in it and let her feel how plush and silky it felt against her skin.
And look how cute it is as a shopping cart cover for my grocery store date with Max!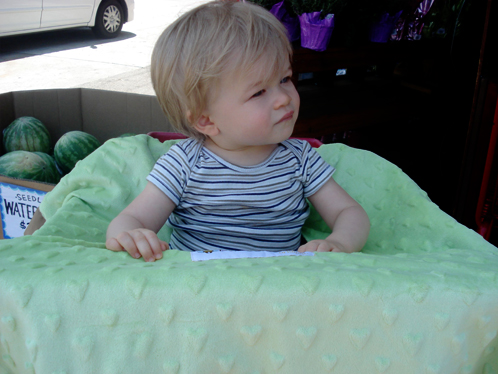 ---
1 Comment
---